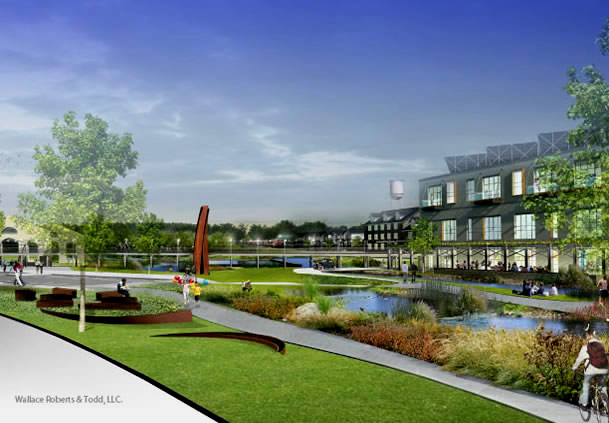 The concept and inspiration that we have dreamed up for Yorklyn Village
***Oct 2022 UPDATE***
*************
CLICK HERE for the most "up-to-date" Master Plan!
*********
 At this time, the last building to go, the big "Mill 6" building has been demolished.  The remaining structures are not "abandoned" rather the bones and structure of the new "Yorklyn Village".
The historic buildings that remain will soon be available for renovation and lease.  Watch for more info on this in the near future.
Other plans in the works include a new amphitheater where the Delaware Symphony Orchestra will hold their summer outdoor concerts.  The Symphony has signed a letter of intent to manage the scheduling and production of presentations by other local, regional and national acts, and to bring other artistic activities to the site.
Across the road, the new parking area is complete and more paved walking/hiking/equestrian/steam car trails meander creekside thru the beautiful valley.
The new pavered portion of Gun Club Road is complete and has been connected to Yorklyn Road. This beautiful (water pervious) road offers easier access to Yorklyn Village.
Please click on the following links for more information.
Market Study Executive Summary
Click Here for the latest information about waste removal.
Click Here for Information about the new Gun Club Road.